Celebrating Amos Oz, z"l and His Body of Work
ON THE SECOND ANNIVERSARY OF HIS PASSING
In Judaism, every reader is a proof reader, every student a critic, and every writer – including the Author of the universe – begs a great many questions. – Amos Oz
Genetics of an Author
Dramatized Reading
Written, directed, and performed by Emily Sztabzyb
A young woman in a Jerusalem apartment, bids goodbye to her grandmother. In doing so, she delves into an exploration of memory, literature, and history… all linked within her, rooted in a deep connection with the late famed Israeli author, Amos Oz, z"l.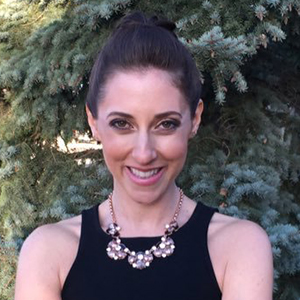 Emily Sztabzyb
Emily began her theatre career with a degree from the Department of Drama from U of C, with a minor in Dance. Professionally, she worked for over a decade as an actor, singer, and dancer, performing with such companies as Theatre Calgary, Vertigo Mystery Theatre, Edmonton Opera, Lunchbox Theatre, Stage West Dinner Theatre, The Mayfield Theatre, Shadow Productions, Quest Theatre, and Theatre North West. During these years, she was also featured in numerous films and television shows, most notably as a principle actress in the NBC horror series, Fear Itself. Emily also works as a radio actor, in the past with CBC Radio, and currently at Six Degrees.
In 2007, Emily and husband Sebastian began a family and she turned her focus to work that allowed her to stay closer to Calgary. Emily began work as a playwright. The Treasure, Emily's one-act play loosely based on her Grandmothers' story of Holocaust survival, was produced in Calgary for a Yom HaShoah commemoration, and was then later produced in Germany in 2016. Her full length play, Hinged, co-written by Gahl Pratt Pardes, follows women dealing with domestic abuse. This play was first produced as a fundraiser for Na'amat Calgary, and has since seen other local productions, including one for Sagesse Domestic Violence Prevention Society. In addition to work in theatre, Emily works as a fitness instructor for Lagree YYC and at the JCC.
Hebrew Terms
Ima – Mom
Aba – Dad
Safta – Grandmother
Zaida – Grandfather
Beit Sefer – School
Shuk – Market
Gevirotai – Ladies
Rabotai – Gentlemen
Kibbutz – Communal settlement in Israel, typically a farm
Kibbutznik – Member of a kibbutz
Tzahal – Acronym for "the army of defense for Israel", IDF
Haaretz – Commonly used by Israelis to refer to "The Land of Israel"
Nana – Mint tea, central to social life in the Middle East
Shiva – A period of seven days' formal mourning for the dead, beginning immediately after the funeral
Amos Oz, z"l
Israeli Writer • Novelist • Journalist • Intellectual
May 4, 1939 – December 28, 2018
10 Things to Know About this Prolific Author
Half a century writing career: he published over 35 books – many of them translated into 45 languages – including 13 novels, two children's books and collections of short stories, and hundreds of articles on literary and political topics.
Won dozens of awards, including the Israel Prize and Germany's Goethe Award. Repeatedly mentioned as a leading candidate for the Nobel Prize for Literature.
At age 14, after his mother committed suicide, he left Jerusalem, became a Labor Zionist, joined Kibbutz Hulda and changed his last name to "Oz", Hebrew for "courage". He lived a kibbutz life for 25 years, then moved to Tel Aviv. Oz is buried back in the kibbutz.
Oz on living in a kibbutz: I became a branch of the farm, yet they still said I could have just three days a week to write. It was only in the 80s when I got four days for my writing, two days for teaching, and Saturday turns as a waiter in the dining hall.
Served as an army reservist in a tank unit which fought in the Sinai Peninsula during the Six-Day War and in the Golan Heights during the Yom Kippur War.
Leading voice in Israel's peace movement; one of the founders of Peace Now, a leftist organization that opposes Israeli settlements in the West Bank.
Prominent advocate of a two-state solution to the Israeli-Palesinian conflict.
I'm a peacenik, not a pacifist. The pacifists believe that the ultimate evil in the world is war. I believe that the ultimate evil is not war but aggression.
A Tale of Love and Darkness, his memoir, is considered his best book and the biography of Israel itself. A young Amos witnesses the destruction of European Jewry, the height of the British mandate, a Hebrew renaissance in Jerusalem, the great Zionist debates of the day, the rise of the kibbutz movement, and the birth of the state.
His most recent book, Dear Zealots: Letters from a Divided Land is dedicated to his four grandchildren, all in their 20s, living in Israel. Oz called the book – a trio of essays on fanaticism, Judaism, and Israel – "ammunion" for the younger generation to address what he identifies as the biggest debates of our time.