Celebrating Yom Haisha – International Women's Day (IWD)
Celebrating Yom Haisha – International Women's Day (IWD)
March 8, 2021 @ 11:30 AM

-

1:00 PM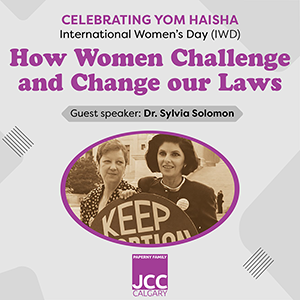 How Women Challenge and Change our Laws with Guest Speaker Dr. Sylvia Solomon
Over the years, women have successfully challenged and changed laws, both in the United States and Canada. Explore three landmark human rights trials:
– 1954: Brown v Board of Education – Concerning segregation in US Schools
– 1969: Roe v Wade – A woman's right to choose
– 2015: Carter v Canada – Giving Canadians the right to die with dignity
Learn how "great triumphs can only come out of great trials."
To celebrate this event, pick-up an IWD goody bag at the JCC.
Register below for this 3-part series hosted by Miles Nadal JCC
$15 or $8 drop-in/lecture
For more information, email Shula Banchik or call 403-537-8596.