Elevate your workouts and join the fun with our innovative, inspiring, and challenging classes. Whether you are new to exercise or a seasoned fitness enthusiast, we will find something for you!
All group exercise classes are included in the price of your membership!
Let some of the most experienced fitness professionals in the city help navigate you through the ever-changing trends of the fitness industry. Our classes are based on the latest research and science in order to give you fun, safe, and effective experiences.
We are now offering limited in-person pre-booked spots for our Group Exercise classes. All classes are also offered virtually via zoom to JCC members only.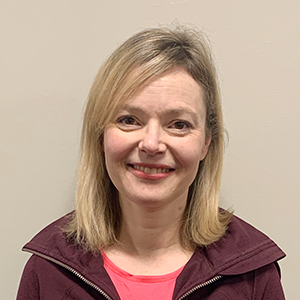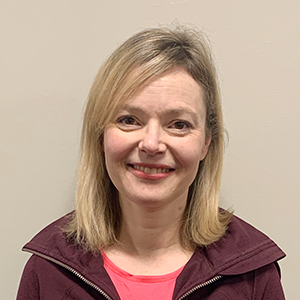 Cathy Bjorndalen
Fitness Program Manager
Cathy is a born and raised Calgarian who avidly participated in group fitness at the JCC in the early 1990s and also took her ALFCA training in 1993. After she…
read more
Equipment for Virtual Classes
Equipment is always optional and instructors will often suggest at home substitutions.
Suggested equipment may include: hand weights, bands, a mat for core work, and sliders. For Barre classes a counter top, chair or other sturdy immovable balance apparatus is needed. For Yoga classes a mat, blocks and a strap are suggested.
At home alternatives that may used: canned goods, milk jugs filled with water, books, rocks (hand weights), tights or panty hose (bands) or paper plates (sliders).
Athletic Training
Boot Camp: Challenge yourself! This fast- paced, moving circuit class will work your entire body. Various stations will challenge you to push your cardio, strength, and endurance to the next level.
Cardio Cutz: A seamless combination of power cardio moves and muscular strength / endurance intervals done at your own station.
Cardio Pump: Intervals of step and high-low cardio alternate with weight training sets.
Cardio Tabata: An interval class of high intensity cardio (no equipment) will improve your overall fitness. Nothing fancy, just fierce!
HIIT (High Intensity Interval Training): Take your fitness to the next level. Various portable equipment is used in this explosive full body workout. HIIT boosts metabolism and improves aerobic and anaerobic fitness.
Power Hour: Join us for Power Hour! We'll kick things off with some boxing combination of jabs crosses uppercuts & hooks. Then we ramp up the heart rate with some plyometrics like Burpees and jumping jacks. Ending with core & more with a series of planks, glute bridge & various types of floor work targeted at strengthening your entire core.
Body and Mind
Barre: Ballet-based fitness with weight intervals and core conditioning. This class will lengthen, strengthen and tone your thighs, arms, abdominals, and glutes. For all levels.
Buti Yoga: This calorie-scorching workout fuses power yoga with cardio-intensive tribal dance and body sculpting primal movement. The result: long, lean muscles and a super fit body!
Deep Buti:  Masterful and intentional, Deep Buti is a low-impact, restorative movement sequence that connects mind to muscle. This class is designed to help prevent injury, stimulate nerves, and restructure the deep core. Self-massage and pressure point activation are also used to release muscles during deep restorative asanas.
Gentle Yoga: Gentle Yoga is designed for adults of any age, including seniors and those with minor physical ailments, who prefer a slower paced or more relaxed practice. Students practice beginning yoga postures and work on the principles of body alignment and breath awareness. Lots of modifications are provided to ensure that poses are accessible for students with extra tight hips, cranky knees, or other minor limitations. Students of all levels are welcome, including those who are new to yoga.
Pilates: A mat class blending core strength, flexibility, and alignment. Create long, lean muscles and improve body awareness All levels welcome!
Pilates Interval Training (PIT): A low impact workout that integrates cardio exercises between Pilates strengthening moves for 4 rounds of 10 minutes each to tone and sculpt your muscles. This challenging and effective workout will lengthen and strengthen your muscles, as well as improve your posture and flexibility.
Vitality Stretch: Enjoy this slow-paced stretch and flexibility class. We stretch with purpose to renew length and balance in our bodies.
Yin Yoga: A series of long held poses that improve mobility for your joints and increases mental focus and energy within the body – targeting tendons, ligaments, and fascia.
Yoga Flow: This class joins physical postures, or asanas, with inhales and exhales, creating a steady internal rhythm for the practice. Our Flow classes place a strong focus on the power of breath awareness and are designed to cultivate heat in the body with creative sequences involving sun salutations, standing, seated, and balancing postures. Flow yoga classes are at moderate intensity and are open to all levels with modifications given.
Choreography
Cardio Remix: A sweaty blast! A fun moderate intensity class combines popular music (new and old) with intervals, plyometrics, and easy-to-follow cardio.
DanceFit: A new kind of dance class that engages your entire body for a full body workout. Like other forms of cardio exercise, dancing has mood and mind benefits, improving energy, and lowering stress. We could all use more Latin, Ballroom or freestyle dance in our exercise routines. Dance and get fit!
HIGHLow: A throwback to the old school days of Hi Lo Aerobics, HIGHLow brings the same energy, intensity, and effectiveness of a HIGH Fitness class with lower impact.  HIGHLow has the same songs and choreography as HIGH Fitness but without the cardio push tracks (so no burpees and tuck jumps!). Low impact options will be demonstrated first, followed by higher levels of impact so people can choose their preferred level of impact.
Multi-Step: This fun and energetic step class uses two to four steps and challenges your cardio and coordination.
Pound: Let loose your inner rock star in this high energy class! Working with "Ripstix" and a choreographed exercise program, your body becomes the stage for you to let loose, have fun, and get your body sweat on. You'll leave class with your body wanting an encore performance!
Reggae Tone: A fun dance based cardio class for all levels that incorporates Reggae. Calypso, Soca and Afro Beats music mixed with contemporary tunes. Modifications are provided to make this class inclusive to many abilities and ages. The class finishes with 10 mins of core, strength work and a stretch. Bring your energy and a smile.
20/20/20: Get the variety you crave! Mix it up in this fun interval training class. Intervals are 20 minutes each of step, hi/low cardio, and resistance training.
Zumba®: Join the party! Latin flavor, hi and low impact, dance-based movement to awesome music will make you forget it's a workout! No experienced needed.
Forever Young
Bands 'n' Balance: This is a low impact, moderate to high intensity class that uses a variety of resistance bands and weights. Your balance will be challenged with compound exercises that activate your mind-muscle connection. This class will tone every muscle in your body and improve your balance.
Bone Builder: Join us for a relaxed, low intensity session where we emphasize movement, stretching, and strength exercises designed to help you with life's everyday activities.
Chair Dancing:  If you enjoy music and movement, join us in the gym where we pretend to close blinds and "dance like no one is watching"! No experience necessary. Most choreography is done seated with an option to stand for those who prefer.
EZ Energy: Improve mobility, stability, and cardiovascular health in this soft impact class. This fun class closes with functional core training and stretching.
EverFit: This gentle moving class will help improve your overall fitness including strength, balance, and cardiovascular health. Options are provided for all levels.
Zumba® Gold: Zumba = fun fitness! Low impact, dance-based movement to awesome music that will get you fit while having fun!
Sculpting
Body Blast: Amp up your strength training with this full body workout using barbells, hand weights, and cardio intervals.
Pumped Plus: Get strong and defined as we work all major muscle groups. Improve your muscular strength, endurance, and power.
Sets Plus: Dumb bell super set intervals alternate with explosive muscular power moves, giving you a full body workout with amazing results!
Tone & Sculpt: Shape, tone, and define your muscles. Using a variety of fitness equipment including weighted bars, free weights and exercise balls you'll target every muscle group for a total-body toning workout. Benefits includes: Improves strength, balance, and coordination while defining the muscles.
Spinning
Spin: Fire up your cardio fitness in this super- sweaty cycling workout!
Spin & Pump: Spin into shape and then challenge your major muscle groups with weights and core strengthening.
Today at the Paperny Family JCC
more events today
Thursday, August 05, 2021