Art Exhibit: Through My Eyes
Art Exhibit: Through My Eyes
February 12

-

February 28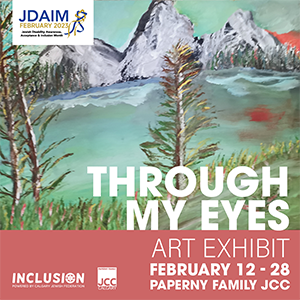 View the work of Yehudit Chayil and her inspirational message that "no challenge is too great."
Meet this talented artist at the opening reception on Sunday, February 12 from 3:00 to 5:30pm.
Presented in partnership with Inclusion, Powered by Calgary Jewish Federation.
Artist Biography: As the years go on I have come to embrace that life is what we make it. I enjoy expressing my life desires, experiences, and visions through my art. I began my expressions through art, only six years ago. As I have had a disability all of my life, I was not confident that I would be able to find ways to put my thoughts on canvas as it requires steady hands, of which, I have not. However, I have indeed found ways to accommodate my unsteady hands, rather unconventional to most, but which work for me. I do not have any particular style, nor do I favor any particular topic. I find beauty in all walks of life and I enjoy exploring new challenges to express on the canvas. I strive to improve with all things, including my painting, and I work at it not to perfection, but to hopefully bring viewers into my world for just a short time.