JCC Literary Festival – Paul Alster
December 8, 2021 @ 7:00 PM

-

8:00 PM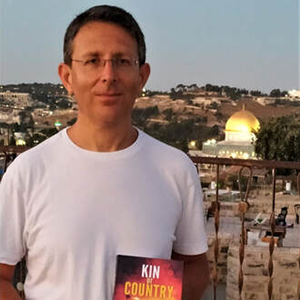 Author / Journalist Paul Alster discusses his book, Kin or Country with writer-editor and Paperny Family JCC Literary Festival chair Danyael Halprin (pre-recorded in Israel).
British-Israeli broadcast journalist Paul Alster decided to write a novel highlighting the expected two-thirds increase in the Israeli population over the next 30 years, most which will come from the Ultra Orthodox and Haredi Jewish communities. This dramatic new demographic will significantly move the balance of power in Israeli society and change day-to-day living in the world's only majority Jewish nation. The question Kin or Country poses (and that much of Israeli society is already asking itself), is whether or not such changes will lead to societal chaos? Is there a potential Jewish civil war in the offing?
Written as a political thriller revolving around a frenetic police investigation into a murder discovered just days before the referendum is due to take place, Kin or Country also reflects the geopolitical issues that would come to pass in such a situation. Both American and Iranian political interests are also on the line, but the thought-provoking storyline also focuses on the very human dilemmas and emotions facing one Jerusalem-based family that reflects both sides of the heated political debate. Where do their loyalties lie? With their kin or their country?