The Printed Word Series – Crossword Construction – Celebrating International Women's Day
March 9, 2021 @ 11:00 AM

-

12:30 PM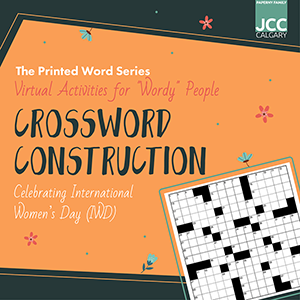 A crossword puzzle is much more than just a game – it is a place to explore and discover new ideas, associations, details and subtle language differences. International Women's Day is an opportunity for us to think together about womanhood, what being a woman means today. We invite you to join a live session in which we will create a crossword puzzle and YOU will actively choose the clues and the answers.
Proceeds will be donated to the Women's Centre of Calgary. A copy of the finalized puzzle will be published by the JCC and inviting downloaders to donate to the Women's Centre of Calgary.
Cost: $6 | Code: 7473
Register online below or by calling 403-253-8600, ext.0. Zoom link will be sent upon registration.
Materials required: 1 pencil. Grid will be emailed upon registration.
This class is part of three original activities for "wordy" people that also includes Book Folding Art – Purim Edition (February 23 and 25) and Blackout Poem Creation (March 30).