Sports Dinner 2022
Thursday, June 9, 2022
31st Annual Sports Dinner
This year marks the 31st anniversary of the Paperny Family JCC Sports Dinner, featuring former NFL quarterback, Alex Smith. He will share his story of resilience – it is one of the greatest comebacks in football history.
We are also thrilled to announce that our master of ceremonies and Q&A moderator is Jon Cornish, former running back and two-time Grey Cup champion with the Calgary Stampeders.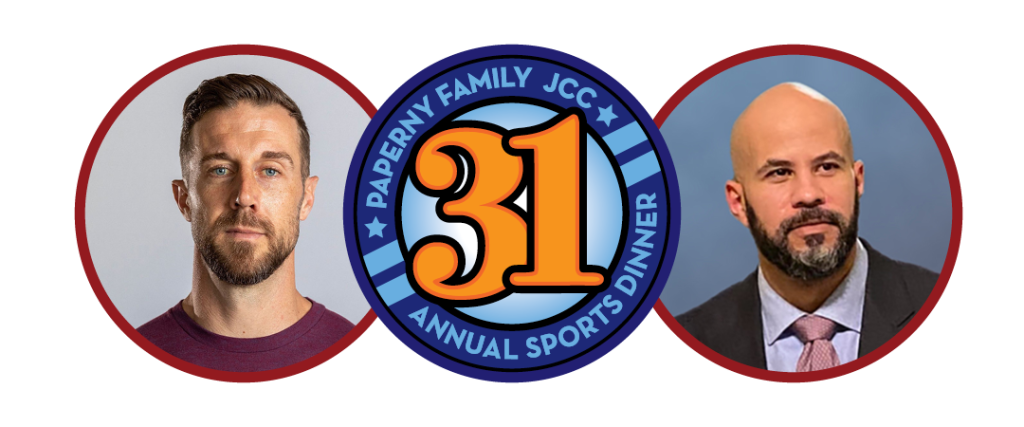 This corporate event is our largest fundraiser of the year and one of the biggest fundraising dinners in Calgary. As a not-for-profit organization, the JCC is a community centre that relies on fundraising to provide social, educational, recreational, and cultural programming to individuals and families of all ages, stages, and backgrounds.
For sponsorship opportunities contact Rhona Shore at 403-444-3168 or email.
About Alex Smith
There is no better model for perseverance than Alex Smith. After suffering a life-threatening injury to his right leg that nearly resulted in amputation, Smith's return to the field is regarded as one of the most iconic moments in football history.
Smith would complete his comeback in October of the 2020 season and go on to appear in eight games earning a 5-1 record in his first six starts. His determination and success earned him the NFL Comeback Player of the Year honour. His story of triumph and return was documented in a special edition of ESPN's E60, Project 11 in May 2020, which highlighted how doctors and the Smith family had to make life-changing decisions due to a post-operative infection.
Smith retired from the NFL in April of 2021 after an incredible 16-year career, which began when he was selected by the San Francisco 49ers with the number one overall draft pick in 2005. In his illustrious career, the California-native passed for more than 35,000 yards, threw nearly 200 touchdowns and appeared in more than 175 games. He earned Pro Bowl honors in 2013, 2016, and 2017.
Since retiring from football, Smith has shown no signs of slowing down as he recently joined ESPN's roster of on-air talent to contribute his expertise throughout the NFL season. Smith will have a role on Monday Night Countdown on select weeks, contribute to Sunday NFL Countdown and will also be part of ESPN's coverage of key tent pole events, such as Super Bowl LVI and the 2022 NFL Draft.
Smith is a graduate of the University of Utah and was named Mountain West Conference Player of the Year and a Heisman Trophy finalist in 2004 and lead Utah to a victory in the 2005 Fiesta Bowl, finishing in the national top-five before declaring for the NFL draft.
Off the field, Smith is a dedicated husband, father and philanthropist as he founded The Alex Smith Foundation, which provides foster teens with the tools and resources needed to transition to successful adulthood.
Smith and his wife Elizabeth live in northern California with their three children.
About Jon Cornish
Recently selected by the University of Calgary Senate to serve as the university's 15th Chancellor beginning a four-year term on July 1, Jon Cornish spent nine seasons with the Calgary Stampeders and led the team to two Grey Cup championships. While playing in the CFL, his football achievements were numerous – including three-time Top Canadian Player, Most Outstanding Player, and recipient of the Lou Marsh Trophy as Canada's Top Athlete – all leading to his induction into the Canadian Football Hall of Fame in 2019.
Cornish is a co-founder, president, and chair of the Calgary Black Chambers – a non-profit that aims to make Calgary the best place to live and work for the BIPOC community. As well, he has been a champion of LGBTQ2+ community by encouraging sports organizations to ensure all athletes feel safe in playing through the You Can Play Project. Deeply invested in the Calgary community, Cornish also continues to work with various non-profits and charities including the Alberta Children's Hospital and The Calgary Foundation.
With a deep passion for community-building, Cornish's personal commitment has been to use his voice to foster respect, awareness, and inclusion.
About the Paperny Family JCC
For over 40 years, the Paperny Family JCC is a place where lifelong, meaningful connections have been made. Whether it is swimming laps in our salt water pool, taking a yoga or spin class, enrolling your children in our licensed childcare programs, building cultural bridges, or more recently, "Zooming" in with friends for a Golden Age luncheon, the future of the JCC is up to all of us.
Our vision is focused on sharing diverse experiences in a safe and inclusive space for everyone. Whether connecting in-person or virtually, being guided by our core values is the way we have approached all of the programs and services offered throughout this challenging time.
"Community" is our middle name and maintaining the culture that goes along with that is – and has always been – our number one priority. As always, we are stronger together!
Thank you to our Sponsors