Inspired Wordless Melodies – Klezmer Workshop with Brian Katz
Inspired Wordless Melodies – Klezmer Workshop with Brian Katz
May 28 @ 3:00 PM

-

5:00 PM

$25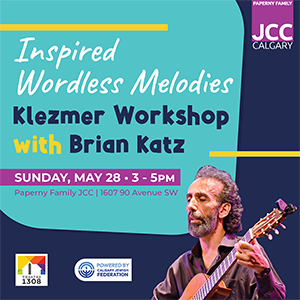 Learn essential Jewish scales and improvise with them to create chant-like melodies (nigunim) that form the basis of much klezmer music. We will then relate our experienced knowledge to the performing of some classic klezmer repertoire.
You can expect a joyous, heartfelt, experience!
All singers and instruments are welcome. No experience in klezmer music, singing, or improvisation is necessary. Brian will find something creative for everyone to do regardless of level, and you'll be astonished at what you achieve!
Pay at the door: $25 | Please call 403-444-3146 if cost is a barrier
For more information and to register email: Rackowf@gmail.com
About Brian Katz
An Internationally renowned guitarist, pianist, composer and educator (at the University of Toronto and York U), Brian Katz's long standing love of Jewish music has led to collaborations with leading klezmer artists and vocalists, including Allan Merovitz and 2023 JUNO winner Lenka Lichtenberg.